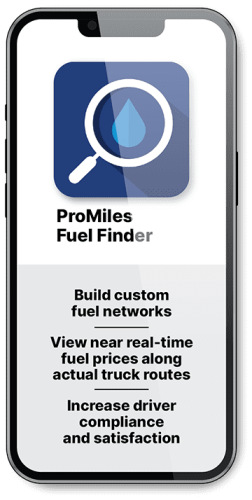 Fine Tune Operational Costs
to Increase Profitability
The ProMiles' Fuel Finder mobile application helps drive bottom-line returns through fuel management by providing accurate, near real-time diesel and DEF prices collected daily from thousands of fueling stops located along actual truck routes. Fuel Finder identifies the lowest cost fuel with prices exclusive of discounts or IFTA taxes collected at the pump.
The Fuel Finder reduces operational costs by improving route planning, reducing out-of-route miles and out-of-network fuel purchases, while increasing driver satisfaction. The ProMiles Fuel Finder App is designed specifically to support the success of every transportation provider by decreasing per-mile costs through real-time price visibility, and purchase optimization.
Benefits
Plan accurate truck-specific routes with directions, distance, duration and actual fuel costs along the route
Ensure load profitability by reducing out-of-route miles and out-of-network fuel purchases while managing compliance rest periods
View refundable IFTA , and retail, discount, DEF and Ex tax prices collected from over 18k locations
View thousands of location types and trusted amenities including fuel shops, truck stops, truck plazas, scales, parking, repairs and maintenance, and more
Improve back-office and in-cab coordination, and the driver experience
Supports all web clients, and mobile and tablet devices for Android and iOS