Bridge Clearance Measurements
THE BRIDGE CLEARANCE PROBLEM
Bridges are consistently suffering impacts due to inaccurate routing based on size of load, inaccurate clearance measurements, or incorrect permitting and routing.
Many work hours are lost with drivers sitting in traffic or detouring around a collision incident.
There are high costs involved with managing collision incidents and with the stopped flow of traffic.
There are additional costs involved due to levied fines, penalties, increases to insurance premiums, and loss of licenses and income.
Manual methods for bridge clearance determination are not accurate or safe, and they and only provide one point of measurement.
HyPoint offers unique differences compared to manual measurement or traditional survey mappers. We are the only company leveraging an available data source from HERE to provide vertical clearances in the US. HERE collect 1.5 million miles yearly with mobile high-resolution LiDAR sensors covering over 95% of the US State-maintained routes annually.
Leveraging this data source allows us to begin the extraction immediately with our automated feature extraction software, and without adding time to the project for deploying data collection vehicles.
Using the sourced data with automation and a proven workflow allows us to offer the service traditional cost surveyors cannot provide and accuracies that manual methods can not achieve. Due to our unique approach, state DOTs have successfully gone through a sole-source process. Our solution is also available through the ESRI marketplace, and states can acquire the vertical clearances directly through their ESRI enterprise license.
MEASUREMENTS FROM A LARGE-SCALE DATASET
COVERING 95% OF UNITED STATES ROADWAYS
HyPoint has access to a nationwide mobile LiDAR and imaging data set through partnerships with large-scale mapping companies. The mobile LiDAR system collects 700,000 points per second traveling at highway speeds. HyPoint automatically extracts the lowest vertical clearance for each lane of travel and paved shoulder.
The clearance data is georeferenced and associated with the correct State Route and Bridge Identification. Transportation agencies can add the clearance data as another layer of information in ESRI's online platform or ProMiles management software.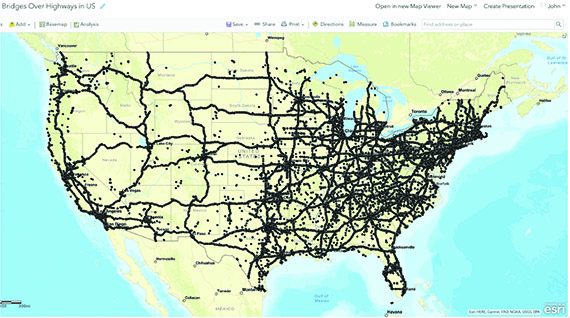 Leverages an available data source
Immediate extraction from the data
Proven workflow reduces cost and improves results
RELIABLE AND PROVEN TECHNOLOGY
Mobile mapping is the process of collecting geospatial data from a mobile vehicle fitted with a range of photographic and LiDAR sensors at highway speeds.
Mobile Mapping enables users to visualize environments. This a 3D point cloud generated from LiDAR.
LiDAR sensors have a range of more than 200 meters and collect 700,000 data points every second.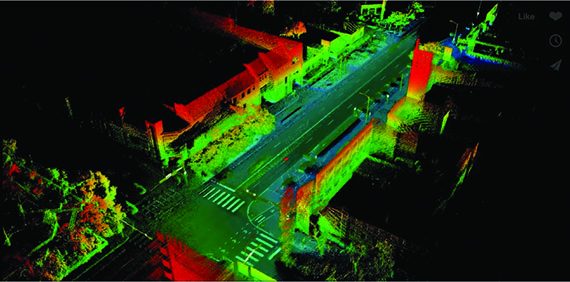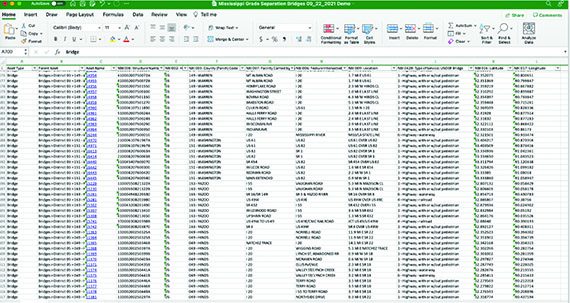 State Department of Transportations provided HyPoint a list of the desired structures to update clearances. HyPoint downloads the LiDAR and Imaging from the locations and runs an automated process to extract accurate clearance data. Clearance data is provided for every lane of travel and associated with the correct route, direction, and bridge identifi cation number (BIN).
A customized Structure Identifi cation Sheet is provided with each structure inventoried.