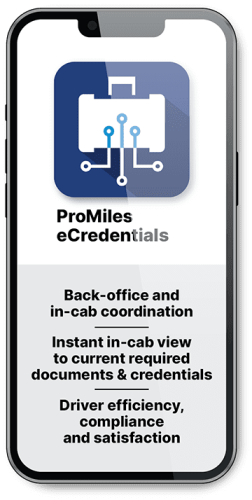 Simplify and streamline the
delivery and management of
critical compliance documents

Powered by ProMiles, the eCredentials Application is an enterprise solution designed to improve compliance and increase productivity for both drivers and back-office personnel. All required or fleet specific credentials are digitized and managed within the back-office system creating a single source of truth for all required In-cab and back-office documentation. Drivers, upon login, access their driver, trailer, vehicle, company, affiliated company, and fleets specific credentials within the Mobile Application. Real-time management including proactive alerts of expiring credentials, and the ability to electronically transfer credentials improves compliance and streamlines the roadside process.
Benefits
Improves communication and compliance via proactive alerts and real-time updates
Contains a predetermined list of required documents with option to customize
Allows for the proactive management of document and credential requirements based on jurisdiction of operation.
Simplifies the management and in-cab delivery of current and required trip documents, including IFTA, IRP, permits, cab cards, vehicle inspections, certifications, and more
Expedites the roadside process, and mitigates violations, penalties and costly downtime
Improves back-office and in-cab coordination, and the driver experience
Supports all web clients, and mobile and tablet devices for Android and iOS